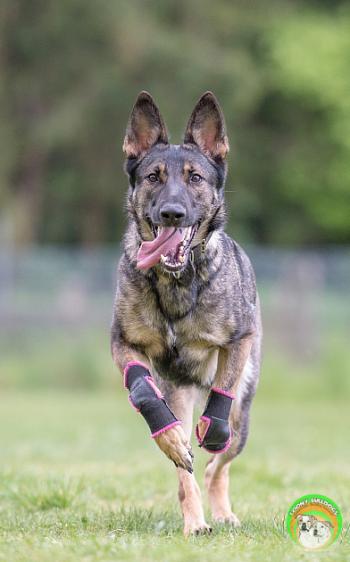 Race: German Shepherd Dog
Date of birth: 09.05.2013
HD-breed value (ZW): 71 (04;2014)
Tealth tests: HD/ED-normal (SV), Back without findings (Spondylosis-free)
Show: good
Work titles: BH/VT, AD, BGH1
Breeder: Isa Duschinski (www.kennel-metunaj.de)
Pedigree: working-dog.eu
Vanja is a typical power brood bitch. She is always ready to work, wnats always please her owner and is pretty dog also. She is after a short introductory phase sociable with other dogs, guards and like to reprimand the other pack members. Despite her high driving position and their nervousness Vanja also loves to spend hours cuddling with their people and other dogs. She is a very human related, open-minded and friendly dog.
Vanja has reached a "very good" in her Begleithundprüfung 2015 and is trained for the IPO 1. Obedience is her favorite discipline. That's why she reached also a "very good" in her BGH1 in 2016.
In pull dog sports Vanja is unfortunately still too nervous, so she does currently not participate in weight pull competitions. It runs very much, so it is next to Betty a fixed instance on Dogscooter and treat mill has become her passion.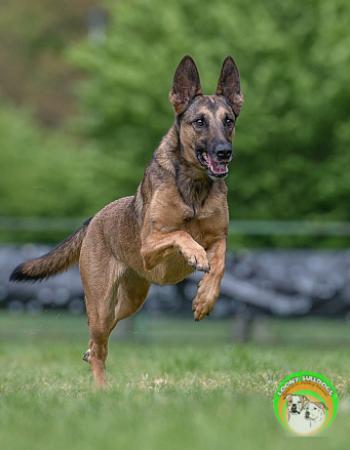 Race: Malinois (maybe mix, we do not have papers, because we got her from animal rescue)
Date of birth: 01.03.2012
Health tests: HD/ED-normal (SV), Back without findings (Spondylosis-free)
Work titles: BH/VT, AD, APA European Champion 2015, WP2 UPF UK
Betty is a true master of versatility. She's Mali-typically high drive, but does not rotate continuously in the "red zone". She loves to work for their people and would always like. She takes each made their task like, so that you really can do anything with her, because she also shows no fear or reservations. She also passed her Begleithundeprüfung and is being prepared for the IPO 1 in 2016. In addition to the working dog sport Betty is also an excellent pull dog. She is the most successful (as we know) Malinois in Weight Pull. 2014, it was at the UPF UK German champion of 60lbs class and crowned alongside numerous victories in competitions their previous career with the European Championship of APA in 2015 in France. Betty is a sensitive dog who always like "splits" within the pack when momentarily prevails displeasure. It is highly compatible with other dogs, but also shows when you behave disrespectful. Dogscooter, Cani-cross her are ranked according to their pleasure in the blood. She is also an outstanding sprinter and long jumper.
She is very people oriented, outgoing and friendly. Your nickname "the Maligator" has Betty because she often like snaps into excitement in the air.